Price Jumps
It happens to the best of us. We meant to type 128, but instead typed 182. Now a wrong price is lurking in the weeds, waiting to cause reconciliation errors, IRR swings related to GIPS compliance, or worse, be sent to a client in an adhoc report.
NüWorkflow provides a well thought out way to handle a wealth management or investment firm's quality assurance needs (not only prices). A concrete example of how this would fit in a typical company is provided here. NüWorkflow's quality assurance tests look for discrepancies in the following types of data:
Price Data (e.g. price jumps)
Transaction Data (e.g. wrong settle dates)
Position Data (e.g. incorrect units)
Client Information (e.g. inconsistent state and zip codes)
Other custom data.
Quality Assurance
NüWorkflow has a number of built-in QA algorithms. Opulos can also develop custom validation tests. The time it takes to develop a custom solution depends on the complexity of the test. Many types of quality assurance tests tend to be simple and can be implemented quickly.
A typical quality assurance workflow will contain a number of validation tasks, and each task checks a specific type of data. Each task will:
Look for potential errors in that data.
Log those errors into a database where they can be managed.
When all QA tasks in the workflow have been executed, then interested parties are sent an email containing file attachments which contain the errors detected for each task. The email also displays the number of errors for each task, and if they are increasing or decreasing from the previous validation. The validation tests can be scheduled to run as frequently as needed, typically daily or weekly.
Anytime price data is entered manually into your portfolio management software, there is room for typos. A price jump validation could be ran on either a daily or weekly basis. Different thresholds can be used for different types of asset classes. For example, a threshold of 15% might be used for equities and a 1% threshold might be used for fixed income.
Here is the sample output of the price jumps detected for one of our clients. Three price jumps were found in only a single month: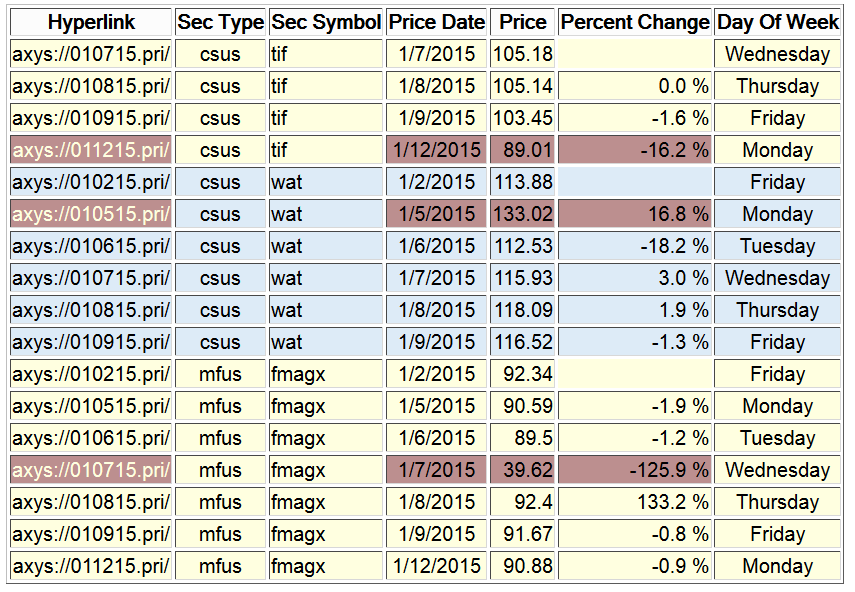 The table above highlights the wrong prices (in red) and displays the neighboring prices. Different securities use an alternating background color, making the table easy to read. A hyperlink is provided that allows the user to simply click to open the corresponding data file for their particular portfolio management software, making correcting prices that much easier.
Managing Results
Prices that are actually correct can be ignored by selecting the row in the table and clicking the ignore button. The user has a choice of temporarily ignoring the error or ignoring it indefinitely. The error will then stop appearing in the file attachment until the expiry date is reached.

The tracking and managing of detected errors is an invaluable feature that all firms concerned about quality assurance should have.
Summary Email
The summary email contains the above table as a file attachment, and displays if the number of price jumps detected has increased or decreased. This gives the chief compliance officer (CCO) peace of mind that errors in data are not going unnoticed.

In general, workflows will be organized by department. For example, all the QA tasks for fund accounting data would be sent to the administration department, and all the QA tasks for KYC (know your client) would be sent to the client service department. The CCO would receive both emails.
Call to Action
If your organization is having problems with your current or historical data then contact us with a brief description of what data you would like to be validated. We will let you know if that is something we can help with.